Android Release - Day 1 Report: What a reaction!
Yesterday, Game Dev Tycoon released on Google Play. If you haven't had a chance to check it out, just click on the image below.
Since our iOS release reports received a lot of interest (you can read part one, part two, part three and part four), we decided to do the same with our Android release. Here we go with our first report.
Release Day
Given our experience with the App Store – where the link to our game didn't work consistently and were we did not show up in any lists for nearly the whole day – we decided to do a soft-launch on Android instead. Our scheduled release-time was 2PM UTC but we hit the release button a good four hours earlier.
The release went live practically immediately but similar to the App Store, the game didn't show up in listings on the store page for the entire day. Thankfully the link to the store page worked without a hitch though.
On the first day on the store, we sold 2,218 units total. For comparison, our iOS release on the first day saw 1,463 sales. Android outperformed iOS by 52%. This is not a surprising result considering that the majority of these purchases are likely from our core fans and taking into account that the link to the iOS version did not work for the majority of the first day (we reported), while Android had no such issues.
We also knew that there was substantial interest. When we asked for Android testers, we received 2,500 applications within a mere three hours (vs. just 700 for iOS over two weeks).
Response
On day 1, Game Dev Tycoon received 647 reviews. 97.7% of players rated the game 5 stars. From all the reviews only 15 players rated the game 4 stars and not a single one rated it lower than 4 stars.
For comparison, the iOS release received 86 ratings on the first day so Android saw 652% more ratings than iOS. In fact, 28% of all genuine Android players have rated the game 5 stars and nearly half of those wrote a custom review!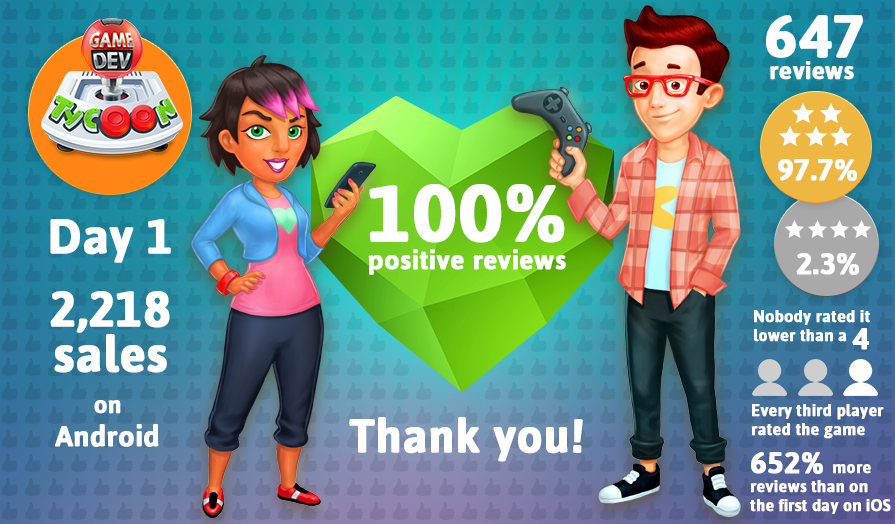 I am truly overwhelmed and humbled by this. Thank you all so much for the amazing reaction! I'd like to give credit to Rarebyte who are in charge of the iOS and Android port and evidently did an amazing job preparing the release. I'd also like to thank our many Beta testers who helped iron out bugs and issues this past month. It has clearly paid off.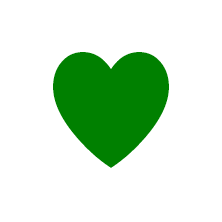 Release Day Blues
Release day is always stressful. It feels like there is always something that requires attention and this time was no different.
In our first iOS report I talked about how difficult it is to reach our audience. Both Facebook and Twitter changed their timeline algorithms in the past years to essentially make it impossible to reach your followers without paying lots of money.
This leaves our newsletter as our most valuable asset but sadly our open rates are much lower than they used to be. This is likely due to changes in how email providers categorize emails (Google's introduction of the 'Promotion' tab had a hugely negative effect) but also because of mistakes on our end: we didn't write subject lines that were catchy enough and ironically our resolution not to SPAM people and only sending emails when we have something to say (sometimes going nearly two years between emails) meant that email providers would look at us as a 'new sender' and were more likely to classify us as SPAM.
Newsletter woes
To counteract this and re-engage with our followers, I decided to experiment a little with our newsletters and as a first step I wanted to bring a little color into our subject lines by using emojis!
This was the idea:
🎮 Game Dev Tycoon is available on Google Play right NOW! 🎉
Nothing too fancy or crazy. Just adding some friendly color. I actually wanted to do this last time for the iOS release too but our newsletter software didn't seem to support emojis and I had no time to check on release day. This time, we were already prepared because thankfully an updated version of the newsletter software does support emojis. We use sendy.co to send out newsletters because everything else is outrageously expensive with a list our size (Mailchimp and CampaignMonitor would cost us nearly 1,500 $ every time we send where Sendy costs a fraction at not even 15$).
Sendy all updated and ready, I drafted the email and sent it as a test to several people for proof-reading and checking using the built-in 'Test-send this newsletter' feature. It came out really well and after double and triple checking everything again I sent the newsletter to our nearly 144K subscribers.
Seconds later I received the email and it looked like this:
? Game Dev Tycoon is available on Google Play right NOW! ?
Well, 💩. Panic mode: engaged 🚨 (especially since there is no stop/pause sending button).
Thankfully, our ever watchful system administrator was immediately available to nuke the process which sent the newsletter but some damage was already done: We just sent 6K people a broken newsletter. Ugh.
Our investigations into the configuration and database revealed nothing. It seemed that we configured it all correctly and the test emails definitely work. Defeated and out-of-time, I took my modern ambitions of emojis in newsletters and put them into the 🗑. Maybe next time.
I guess I shouldn't feel too bad about not getting to inject some emojis. At least our Google Play listing has the most number of emojis I have ever seen on a games description page. For no good reason, here are all of them in order of appearance: 🎮 💚 🕹 ✍ 💡 👁 ⚙ 🏢 👩🏽‍💻 🔬 📈 💚 🥇 ☠ 📰 👩‍🍳 📱 ⭐ – Makes sense, right?
Piracy on Android
On iOS, we did not see any piracy for the first 5 days on the store. Android is a markedly different story.
Within hours of us publishing the game we saw websites copy the Google Play store description and provide their own download pages including download links to a Game Dev Tycoon APK (the downloadable package that contains our game). Most of these sites are infested with ads and probably a good chunk give you malware but there are definitely genuine pirated versions out there.
How many people play a pirated version is hard to say. Our best estimate, based on tracking data and some assumptions, is that on day one around 40% played an illegal copy which seems close to the 50% recently reported by the developers of Hidden Folks.
What we hear from other developers, we need to expect that this will go up a fair bit and will most likely surpass the 55% we saw on iOS. We will talk more about this in future reports when we have more data.
Charts
To our knowledge the game did not appear in charts on the first day and AppAnnie does not seem to track the game yet but this morning we saw the game appear at Nr. 2 in Top Selling New Games. Here is a screencap:

Interestingly, even though the game showed as Nr. 2 Top New game and Nr. 14 Top Selling games overall, it was not part of the Top 540 Top Grossing lists at all. Perhaps the store did not update properly or perhaps the cliff between freemium and premium games on Android is even bigger than on iOS. We should be able to get a better idea in a few days when there is more data but without the amazing reaction from our fans we couldn't have dreamt of hitting the charts within 24 hours.
Thank you all!
– Patrick Klug
💚 Greenheart Games
If you don't want to miss future reports, please sign up to our newsletter: