iOS Release Report Nr. 3: Game of the Day!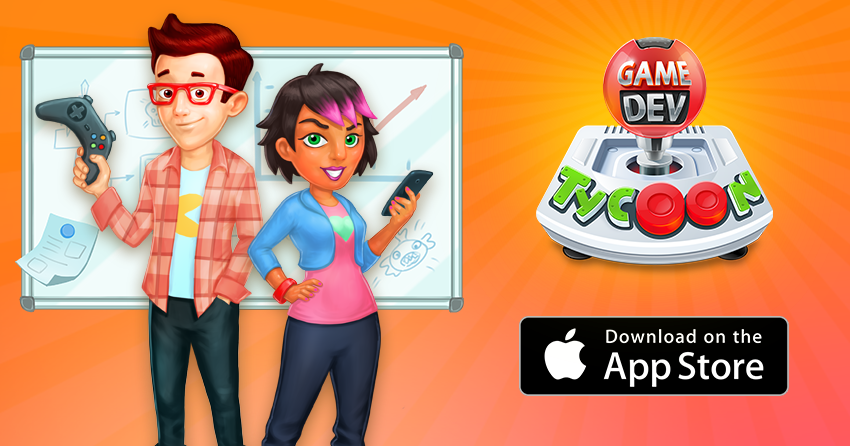 This is part 3 of our Game Dev Tycoon mobile release analysis.
In the last report, we saw a steady increase in sales with day 2 growing by 7% and day 3 by another 11%.
Featured in the US
Day 4 saw us featured in several markets as well as receiving a much-coveted "Game of the Day" feature in the US market. This is our first published game on the App Store but the idea we got from talking to other developers was that a feature in the US is essentially hitting the jackpot. Other than somehow managing to go viral (which we didn't attempt), this is the best-case scenario for exposure within the App Store.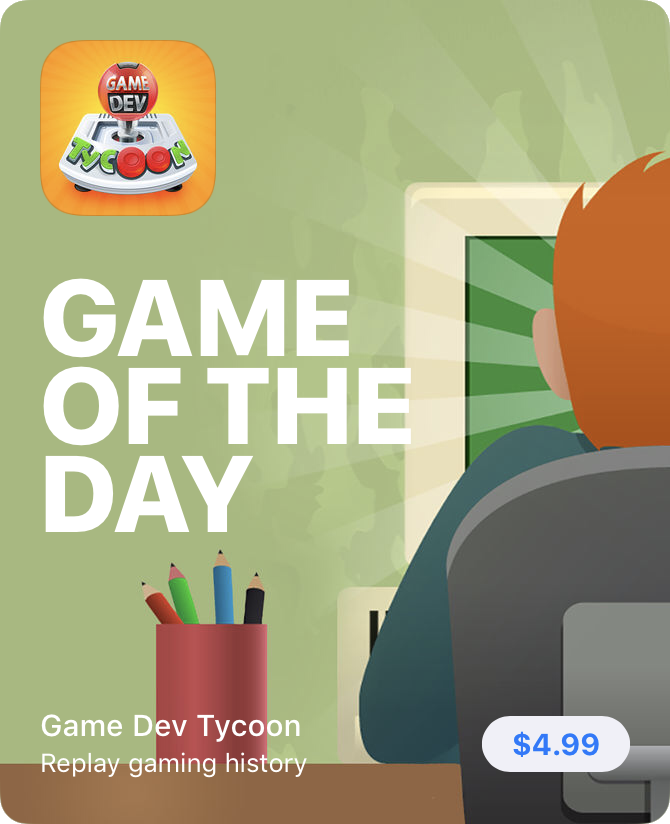 I should mention that Apple prepares these features well in advance and for new games they ask for at least 6 – 8 weeks lead time so the "Game of the Day" feature was definitely not a reaction to our launch experience but planned ahead of time by Apple. In a later postmortem, we'll go into more detail of how we tried to make it easy for Apple editors to feature our game but while we were hopeful about a feature we did not know if, when or where such a feature would happen.
Since iOS 11, the "Game of the Day" feature is not just a fancy banner that links directly to your product page but, instead, a multi-page article written about your game that tries to highlight what makes your game special. The Game Dev Tycoon feature is really well written and not only describes the general idea of the game (to run a game studio) but also manages to explain the entire gameplay arch elegantly. Unfortunately there is no web version I could link to but here are some choice excerpts:
To create your first game, pick a platform, topic, and genre, as well as specific elements – like level design, graphics or sound- to focus on.
One-sentence tutorial: Done ✅
Minutes later, your new game has launched (things move fast in this world), and you can see how crucial those decisions really were. Perhaps devoting resources to sound instead of dialogue limited the appeal of your mythological RPG. Or maybe it was choosing to build a rhythm-based adventure that doomed you from the start.
The Apple editor(s) really got Game Dev Tycoon and highlight the thought processes potential players would go through while playing the game.
Salaries, marketing, interviews, cost control. The bigger you are, the busier it gets. But it's worth it for the thrill of releasing a monster hit that earns 10 out of 10 reviews. Sounds like a great opportunity for a sequel…
The feature ends by highlighting what the progression of the game is and what late-game challenges it provides while also touching on the motivation that makes playing the game so rewarding.
As a developer, I'm used to describing Game Dev Tycoon and I've also seen a fair share of reviews of the game but this feature from the Apple editors is one of the best descriptions of what Game Dev Tycoon is about. I simply couldn't have hoped for a better spotlight.
Our ratings from players in the US were are also very strong. We currently have a rating of 4.9 stars out of 869 reviews.
With all this good news, let's have a look what effect this had on our sales.
Sales
Sales (Units)
Est. Proceeds (USD)

Day 1

1,463

5,325.84

Day 2

1,568 (

+7%

)
5,692.57 (

+6.8%

)

Day 3

1,742 (

+11%

)
6,321.4 (

+11%

)

Day 4

5,161 (

+196%

)
18,793 (

+197%

)

Day 5

7,482 (

+45%

)
26,998 (

+43%

)

Day 6

7,477 (

-0.06%

)
27,104 (

+0.4

)

Day 7

5,513 (

-26.2%

)
19,963 (

-26.3%

)
When the feature kicked in on Day 4 we sold 196% more units than the day before and Day 5 saw another 45% increase. Day 6 saw much the same results but Day 7, our latest data point, shows a -26% drop in sales.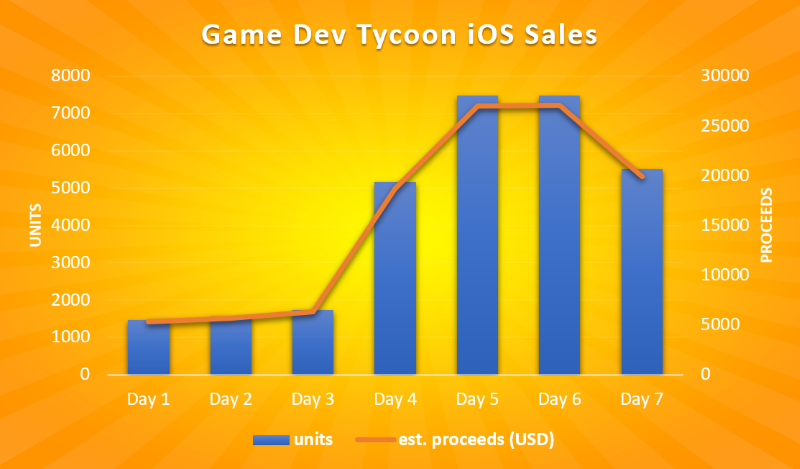 I am not sure if we can share conversion rates and impressions (will check with Apple and, if possible, share it in a future report) but, given the massive exposure the feature had, we hoped for a little more sales as a result. We don't have data from other games as a comparison so we don't know if this result is simply because Game Dev Tycoon is serving a niche in a mainstream market or if we made some mistakes on the Store page itself.
Whatever the reason, it is likely both our own fault and simply the market itself; we couldn't have hoped for a better representation from Apple or our players and thus can't complain. This feature gave us a much needed boost and put the game in a good spot in the charts which will hopefully guarantee us continued strong sales for a little while longer.
US Charts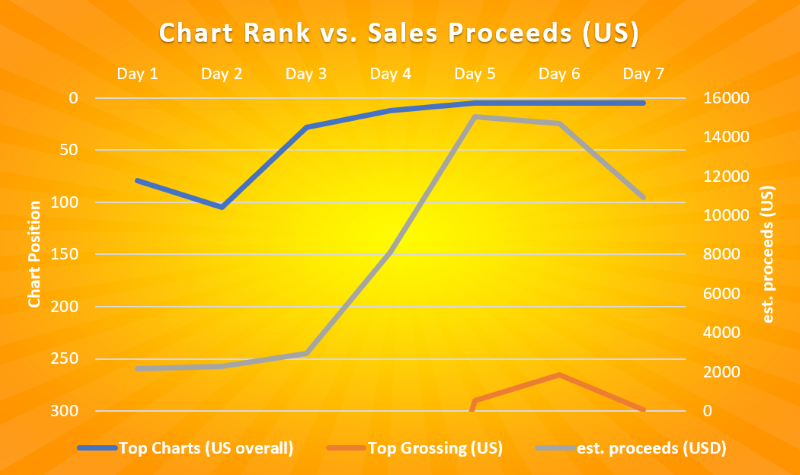 We topped the overall US charts at spot number 5 on Day 5 and, despite the nearly 26% drop in sales on Day 7, held that position. Interestingly, we never even got close to the Top 100 or even Top 200 Top Grossing charts, the closest we got was on Day 6 with a ranking of 265. This just highlights again what every mobile developer has always told us: the App Store is dominated by free-to-play games, don't expect to hit a jackpot with a premium game. Thankfully for us, we didn't port the game to hit a jackpot and with the new sales data it looks likely that the port will be profitable.
Possible Piracy Rates
In the past reports, we talked about a likely piracy rate of 0%. We are now getting some hints that this might be changing.
This graph compares the total confirmed unit sales (in blue) to the total tracked unique users via analytics (in orange). As you can see the first days the total unit sales where equal or bigger than the tracked users but starting with day 4, this changed and by day 7 we see a dramatic rise in the difference with 12% more players than sales. I don't know how Unity analytics tracks unique users in detail, so it's safer to assume that it doesn't track legal installations on multiple devices or installations through family-sharing (which we support) as one single user. This could explain the difference but even if we can't make a clear call of what's piracy and what's just legal usage, it will be interesting to see how this difference changes over time.
I should also mention that we have seen some activity on the web that suggests that there are illegal copies of the game in circulation. Depending on how these copies are cracked, pirates could potentially not show up in our analytics at all. We might be able to share more data on this in future reports.
Musings about Sales Targets and Taxes
After seven days, Game Dev Tycoon on the App Store has about $110K in proceeds which is nearly 58% of our investment. Unless there is a continued massive drop in sales (we hope not!), it looks very likely that we will make our investment back and if we can sustain our chart positions a while longer, we might make some profit too. 🥂
We will see if we can make enough to justify investing again in such a big premium game. The amount of income that is required for our business to develop a project like this is quite staggering. Current day taxation systems really aren't ideal for businesses that have most of their profits in a single year but then consistent expenses in the years afterwards. Australia has a company profit tax of 30% which essentially means that, in order to make a game with $190K again, we need to aim for a profit of at least $271K ($271K – 30% = $190K). In other words, if we can't invest in a new project in the same year that we make our profits in, we need to make 42.8% more money to spend the same amount again ($190 + 42.8% = $271K).
This brings our revenue target to close to half-a-million dollars or 128K full-priced unit sales. On one hand this is an overly cautious calculation because it assumes that we cannot offset any of our future expenses in the year we make the profit, but on the other hand it also assumes that all the initial investment is an expense in the same year you make your money back (which sadly isn't the case for us). It also doesn't plan for any kind of margin. If your next game then fails, which is statistically likely, you could still be out of funds and out of business.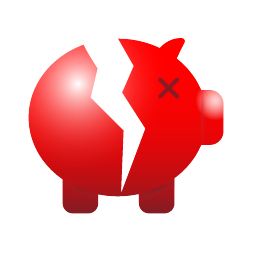 Interestingly, this is pretty much the same reason why a lot of Game Dev Tycoon players go bankrupt at least once. They make a hit-game as a small team, make millions and then overstretch by growing too fast and trusting too much that the next game will be an equally big hit. Moments later they cannot pay their staff anymore, the bank comes knocking and Electronic Mass Productions buys their IP.
Thankfully, we have a buffer from the success of the PC version but it's no wonder indie studios don't risk their money on expensive premium games much. It seems simply too risky. Hopefully for us, our growth curve will continue to be at least steady a little while longer and, together with the Android release, allow us to reach that goal.
– Patrick
Greenheart Games 💚
You can comment on this post here.
Part 4 of our report, is here.