Greenheart Games Pty. Ltd.
Greenheart Games was founded in July 2012 by brothers Patrick and Daniel Klug with a mission to develop games that are fun to play rather than mind-numbing money grabbers. Less social, less ville, more game is our motto.
Our focus
Our focus is on creating good games. We prioritize entertaining and engaging gameplay over revenue-generating mechanics. We value the player's time, as well as intelligence, and we strongly believe that games need to be more than dressed-up slot machines that abuse human impulse to extract money. This means that we sometimes go against industry trends, especially in the mobile arena. We are also more than a little wary of the emerging trend for perpetual crowd-funding, and early access campaigns on PC.
Games
Game Dev Tycoon
Our first game to test the waters was
Game Dev Tycoon
, a business simulation game where you start your own game development company in the 80's. Game Dev Tycoon was inspired by Game Dev Story (by Kairosoft), which was the first 'tycoon' game we enjoyed playing on the iPhone; however, from the start, we wished the game would work and look differently. We wanted a game development simulation which would be less random, more about your choices and a little more realistic. We began working on what would become Game Dev Tycoon in 2011 and created the concepts and game mechanics as well as the game itself from scratch.
Notable Events
2011 – 2012
October 2011
– We begin work on concepts for a round-based game development simulation planned for the iPhone.
December 2011
– We change plans and re-target the game as a real-time isometric simulation for the upcoming Windows Store.
July 2012
– Greenheart Games is officially founded.
– A preview version of Game Dev Tycoon is released on the Windows 8 Preview Store.
December 2012
– The full version of Game Dev Tycoon is released and becomes the first simulation game on the Windows 8 Store.
2013
April 2013
– Game Dev Tycoon is ported to Windows, Mac and Linux. The release causes world-wide media attention when we
report our piracy rates on day one
.
August 2013
– An updated version of Game Dev Tycoon is released on Steam to a great reception.
September 2013
– We release a modding API for Game Dev Tycoon and put our EULA and Modding Agreement under a CC license so other companies can adapt it. [Source]
December 2013
– We release Greenworks, our library enabling integration of node-webkit based games with Steam, under a MIT license that allows others to build upon these tools and use them for commercial purposes.
Notable blog posts
What happens when pirates play a game development simulator and then go bankrupt because of piracy?
Our Team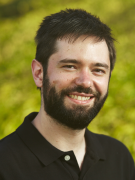 Patrick Klug (Founder, Director, Game Developer)
Programmer, aspiring game designer and gamer at heart, business manager by necessity. Patrick is the Director and manager of Greenheart Games but his real passion is creating interesting games. Before founding Greenheart Games to start his own adventure he worked in the software industry for over ten years, most notably creating the Windows mind mapping tool NovaMind 5 as the WPF/C# engineer and Development Manager at NovaMind Software. Nowadays he really enjoys programming with JavaScript and HTML5.
Favorite games: Wing Commander 3/4, Theme Hospital, Portal 1+2, Skyrim
Patrick also blogs rarely at www.patrickklug.com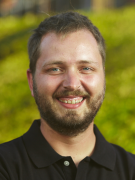 Daniel Klug (Founder, Game Developer)
Daniel has been in the software industry for over ten years. Prior to founding Greenheart Games he worked extensively with C++ and later in the WPF/C# and the .NET Compact Framework space.
Favorite games: X-Com, Diablo, Assassins Creed, Portal 1+2

Dave McCabe (Narrative Designer)
Dave has been writing for too long to recall, but he wrote his first video game story in '97 after playing Final Fantasy 7. It was about a universe-travelling bounty-hunting werewolf and her robot sidekick. Since then he has written for various mediums, companies and games, as well as teaching others how to do the same. He still hopes to makes 'Robot and Girl' some day…
He is not really a drawing. He is, however, un-photogenic.
Favorite games: Lots, including Dungeon Keeper 2, Final Fantasy 7, FTL, Planescape: Torment & Space Quest 5
Chad Keating (Game Developer)
Chad has a background in audio and visual production working with bands and festivals around the UK. Known as SirEverard within the Greenheart Games community he has became a prolific modder before joining Greenheart Games. In his spare time he is also a hobbyist musician.
Favorite Games: Mass Effect, Assassins Creed, Deponia, Grim Fandango and the Final Fantasy series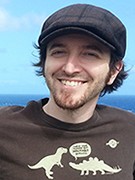 Seth Trimble (Art Wizard)
After dabbling in robotics, 3D printing, and setting things on fire with a blowtorch, Seth figured "why not make game art?". And so he did. After three and a half years cutting his teeth on mobile games, he concluded life was too short to live in Dallas, packed up and moved to Oregon – where they get the green mana for M:TG. He now spends his days painting, sculpting, and concepting fantastic characters and the worlds they inhabit.
Favorite games : League of Legends, Super Meat Boy, Crawl, Super Smash Brothers, FF 1-9, M:TG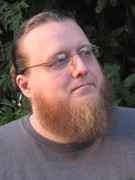 Mike Singleton (Art Necromancer)
Mike has been making art since he could hold a pencil, with a special preference for the Robot, Monster, and Spaceship genres. After getting his start as a comics author and freelance artist, he served a three-year tour in the grim trenches of the mobile games industry. Now an older and wiser man, he's finally fulfilling his longstanding dream of making games for the PC.
Favorite Games: Jagged Alliance 2, Supreme Commander, Angband, and Deus Ex.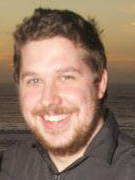 Mark Pearce (Animation Artisan)
Mark has been working as an animator in the games industry for 5 years, and got his start making indie games with his brothers. He has always had a passion for characters and using animation to tell a story. He also has a keen interest in how animation can reinforce game design, and game-feel. He currently lives in New Zealand, with his wife and 2 daughters.
Favourite games: Zelda, Metal Gear Solid, Super Smash Bros, Harvest Moon, Xenoblade
Contact information
The best way to contact us is via social media or by sending an email to support@greenheartgames.com.
Alternatively you can use this contact form: